Turns Out Butter Really is Good for you... New Color Butter
Have you seen Katy Perry's Hair! It is so cute, I love pink and she is wearing it well. Rick Henry, hair guru to Katy Perry took the American Idol host and pop star – PINK! He used Joico's Pink Color Butter. If you have not tried the colors yet, please do! I love how vibrant the colors are and they are so easy to use. I would love to see the looks you create using Joico's NEW Color Butter.
Joico's NEW Color Butter the instant way to fight the fade or add hot shades. Joico Color Butters are color-depositing treatments that instantly add vibrant color or refresh faded color, while reducing breakage by over 44%. The low-commitment Color Butters last for up to 10 shampoos and come in six bold shades: Pink, Purple, Red, Blue, Green and Titanium, so you can play with color like never before! Refresh fashion colors with these rich color boosters for an easy amp-up to that color your clients have been loving, or you can use on their own for a great, low-commitment pop of color on naturally blonde or pre-lightened hair, all the while treating your client's hair to nourishing, ultra-moisturizing ingredients and hair-repairing and strengthening technology from THE healthy hair company!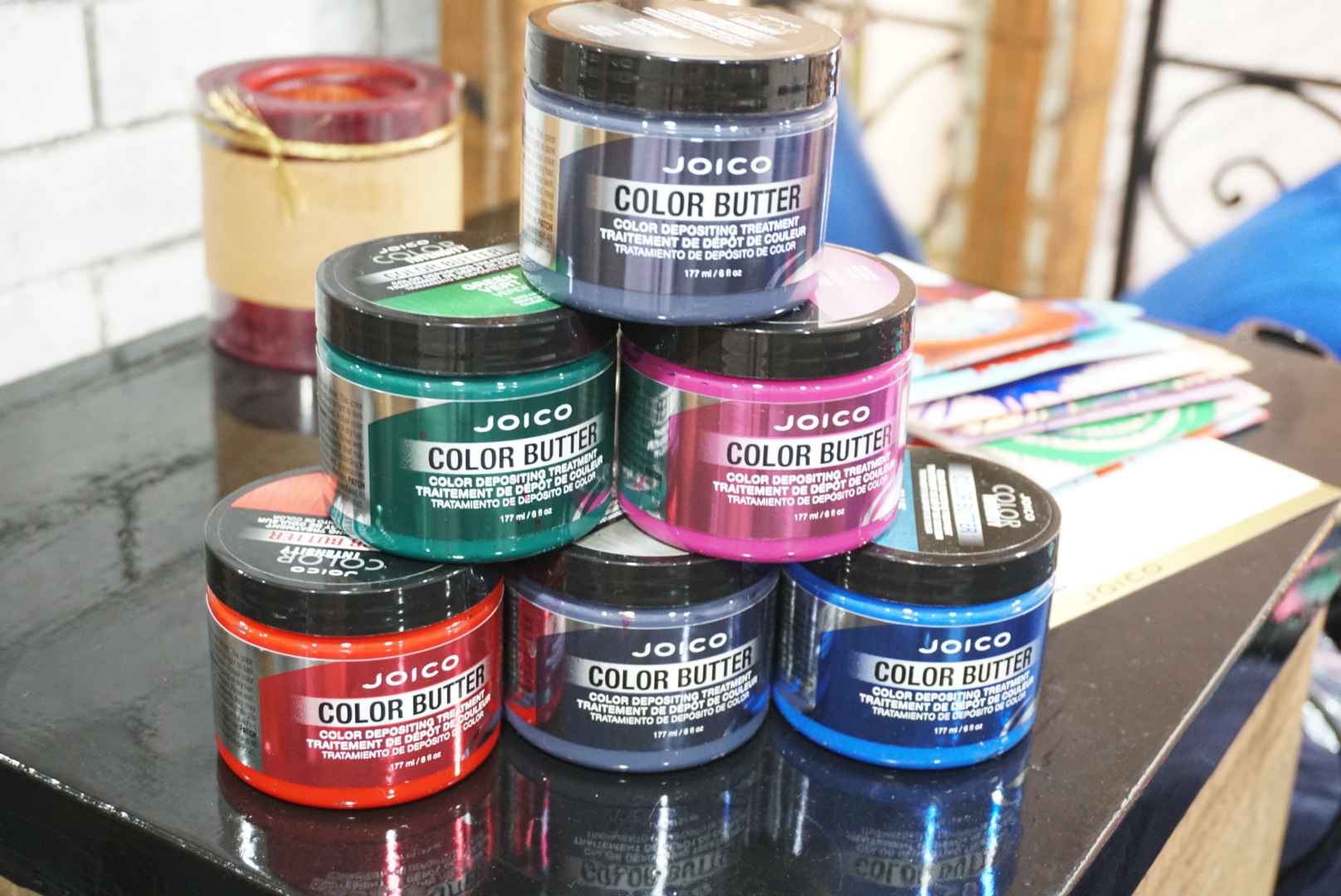 Why You'll Love Them
· Instantly add vibrant color (to naturally blonde or pre-lightened hair)
· Refresh faded color (to naturally blonde or pre-lightened hair)
· Lasts up to 10 shampoos (depending on daily care habits, hair history and texture)
· Fragrant scent: sweet and inviting, you'll love applying it!
· Reduces breakage by over 44% (against combing breakage when using Color Butter vs. clean damaged hair)
The How To
Color Butter is an all new color- treatment category that opens the door to practically endless usage possibilities… Here are a few unique ways to get the most from your Color Butter in the salon and at home. Wearing gloves is recommended when applying and rinsing and cover clothes during application.
Color Butter can be creatively intermixed for endless shade and intensity options. There are three different ways to create your own custom shades:
1. Intermix each shade for strong, bold and artistic customized shades.
2. Intermix any shade or customized formula with your favorite Conditioner like K-PAK® Color Therapy™ or Moisture Recovery to dilute or lighten the intensity a shade.
3. Deepen your Color Butter shades by repeating an application 2-3 times. Apply your first application, process, and rinse the hair. Repeat this process 2-3 times to deepen your color butter result.